Resource Management & Planning (RMP)
Fall 2017 News
Vice Chancellor's Note
Dear UC San Diego Students, Faculty and Staff:
Focus: RMP is a new quarterly e-newsletter aimed at enhancing information sharing about UC San Diego's unprecedented expansion plan, including the many exciting new services and service improvements already underway or in development across our growing campus. Focus: RMP will also highlight some of the significant achievements of the thousands of dedicated UC San Diego employees who—each and every day—help keep us safe, design, build and maintain our buildings and facilities, educate our children, manage campus policies and records, operate our bookstore, develop innovative business and communication solutions, and move sustainably to/from and around campus.
As 2017 draws to a close and we look forward to a New Year ripe with potential, I'm pleased to announce that we recently filled three key leadership roles in Resource Management & Planning to help support the implementation of UC San Diego's first-ever Strategic Plan. As we plan for and address the challenges that accompany UC San Diego's rapid evolution into one of the world's top public research universities, RMP remains focused on customer service, cost containment and communication. One example is the launch of an informative new web site—plandesignbuild.ucsd.edu—which features the latest updates and camera footage for the many construction and renovation projects underway at UC San Diego.
I encourage you to read this premier issue of Focus: RMP and tell us what you think. Please stay tuned for many more developments that we will share in future issues.
With best wishes for a safe and enjoyable holiday season,
Gary Matthews, Vice Chancellor
Resource Management & Planning
---
GPS-Equipped Bikesharing on Campus
Encouraging bicycle use and other alternative transportation is essential to meeting our goal of becoming a carbon-neutral campus by 2025. To complement UC San Diego's existing transportation options and improve access, we are actively working to create a more sustainable and bicycle-friendly campus by building bike lanes and encouraging bike use.
UC San Diego partnered with Spin — one of North America's leading stationless bikeshare companies — to offer bikesharing as a convenient cross-campus mobility option. Spin uses the latest industry technology — GPS enabled, self-locking bikes powered by solar panels.
Fifty orange Spin bikes are now available in key campus locations with 250 more arriving in mid-January. Users simply download the smartphone app and create an account using their @ucsd.edu email address. Campus users can ride free up to 30 minutes through Dec. 17, 2017. Afterward, users can ride under 30 minutes at $0.50 per ride or choose monthly or annual unlimited ride packages. more
Process Palooza Pioneers
RMP sponsored and participated in the first-ever campus Process Palooza which was a success! The day-long event brought the campus together in a fun and practical way to reinforce and reward a culture of continuous improvement. At its core, Process Palooza provides a learning opportunity to do more with less using principles of Lean Six Sigma. The winning team, Turquoise Top Guns, used the DMAIC model to demonstrate how Transportation Services could save $100,000 while improving the new-hire free parking permit and promoting alternative commute options. View the full event video. VC Matthews treated the team to lunch at the Faculty Club. Photo left to right: Nguyen Trieu (ITS), Jenna Lucius (VC Academic Affairs), Tina Mata (ITS), VC Gary Mathews (RMP), Paul Krueger (ITS) and Tehseen Lazzouni (VC Academic affairs)

Approximately 30 RMP employees received Lean Six Sigma Yellow Belt Training in 2017 and 12 Green Belt and 4 Black Belt participants are scheduled for 2018. For more information about training opportunities, contact Eliud Escobedo, Business Process Innovation Manager.

Expanding Our EV Charging Network
By year's end, UC San Diego will have 129 Level II chargers and four DC fast chargers on campus. In 2018, we plan to expand our network of electric vehicle charging stations to 239 Level II chargers and up to 10 DC fast chargers. This will make UC San Diego's EV charging infrastructure the largest and most diversified of any university and put us on par with corporate campuses like Google and Apple.

With rising gasoline prices, continued California rebates and increased adoption, approximately 350 people regularly commute to campus by electric vehicles. To encourage this shift and support the University of California's Carbon Neutrality Initiatives, the university works with dealerships to provide exclusive electric vehicle leasing and purchasing opportunities for students, faculty and staff.

New Website for Planning, Design & Construction
RMP recently restructured Facilities Design & Construction, creating two new units to more efficient plan and implement UC San Diego's $3.2 billion capital program. Design & Development Services focuses on strategic visioning, design review, quality control, inspection and permit issuance. Capital Program Management implements the university's capital improvement program providing project management, engineering services, contract administration and fiscal management. In late September, RMP launched plandesignbuild.ucsd.edu to include Campus Planning and Facilities Management Project Management with these new units because they are all involved in UC San Diego's construction and renovations processes.

Photography Services
Take Off
Imprints recently added drone flight capability to its digital photography and videography services. Rhett Miller received Part 107 (Unmanned Aircraft Systems) of the Federal Aviation Administration Regulation Pilot Certification to operate the drone on campus. Eric Delucien, UAS' Program Manager for Environment, Health & Safety approves all flight plan. Scripps Institution of Oceanography was Imprints, first drone client, requesting photos and video footage of Walter Munk's 100th birthday celebration. RMP uses the drone to document the progress of campus construction.

U-Pass Cloud App
This fall, Transportation Services, in partnership with the Metropolitan Transit System (MTS), rolled out a new U-Pass mobile app to provide students unlimited access to all bus routes and the Trolley. The new U-Pass Cloud app Is available to all eligible undergraduate and graduate students, on the App Store and Android Market for iPhone or Android users. This gives students flexibility to use a smartphone or photo ID card with a valid U-Pass sticker to ride transit.

Lyft FLEX for Students
To complement existing alternative commuting programs, students can now purchase a Lyft FLEX Commute option and receive additional Lyft credits. As part of Lyft FLEX, eligible students receive free parking permits to meet their daily campus commuting needs. RMP is working with Integrated Procure-to-Pay Solutions to develop similar programs for faculty and staff that will be available in winter 2018.
---
Doug Bennett
Chief of Staff
Office of the Vice Chancellor
Doug brings over 25 years of experience providing leadership and management support to world-class science research and higher education organizations, including NASA's Goddard Space Flight Center. During his 16-year tenure at Scripps Institution of Oceanography, Doug served as Assistant Vice Chancellor for nearly 10 years, leading business, financial, human resources, capital planning, research support facilities and communication functions. Doug will be responsible for executive advising, strategic planning and communications, external relations and operational leadership and management.
Eric Smith
Associate Vice Chancellor
Capital Program Management
Eric brings 40 years of leadership experience in facilities design and construction management. Eric was the California Regional Manager for OAC Services Inc., a construction management firm focusing on technology campuses in the Silicon Valley, and served as Executive Director of Vanir Construction Management in the Bay Area. Prior to his recent private sector experience, Eric spent 12 years at the University of Washington as the Director of Major Capital Projects where he oversaw a $1.5 billion portfolio of public university projects, including a new hospital wing and emergency department for Harborview Medical Center. As AVC, Eric is responsible for implementing UC San Diego's $3.2 billion capital program.
Josh Kavanagh
Director
Transportation Services
Josh brings over 20 years of experience managing transportation and parking services in various settings. Josh served nearly 10 years as Director of Transportation at the University of Washington and more than five years as Associate Director of Parking & Transportation at the University of New Mexico. Most recently, Josh managed Global Commuter Benefits for Amazon.com. He has developed and implemented a variety of innovative strategies to address transportation and parking challenges, including ride-sharing services, integration of local bus transit and campus shuttles with light rail and a RFID-based smart parking solution.
---
UC San Diego Receives SANDAG Diamond Award for Commuting Programs
The University of California San Diego has received a Diamond Award from the San Diego Association of Governments (SANDAG) in recognition of the campus' efforts to encourage workers to use environmentally sustainable transportation. more

UC San Diego Receives Green Fleet Leadership Award for Reducing Emissions
San Diego Regional Clean Cities Coalition recognized UC San Diego and six other local fleets for their work to reduce petroleum use and vehicle emissions. Launched this year, the Green Fleet Leadership Awards recognize local leaders in fleet management based on submitted annual data. The 2017 top fleet operators are San Diego Gas & Electric, UC San Diego, County of San Diego, City of Chula Vista, Unified Port District of San Diego, San Diego Regional Airport Authority and City of San Diego. These seven fleets are local models for implementing best practice strategies, such as rightsizing, green fleet planning and using alternative fuels.
---
Fire Safety
RMP is continually assessing fire safety issues around campus. This includes evaluating stressed or dead trees and vegetation, as well as access to vulnerable areas of campus. We are currently taking action to mitigate these fire threats, with sensitivity to wildlife, nesting seasons and regulatory requirements.
---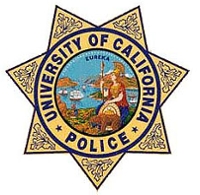 Abandoned Bikes Benefit Local
Inmates and Community Members
As in previous years, this fall, the UC San Diego Police Department donated 82 bicycles abandoned on campus to the San Diego County Sheriff's Department East Mesa Reentry Facility CIVICS Bicycle Program. The Community Involved Vocational Inmate Crew Service (CIVICS) program was developed to provide locally incarcerated inmates with employable skills that they can use upon release from custody. Inmates refurbish the donated bicycles which are then distributed to community groups through nonprofit charitable organizations.
---

Office of the Vice Chancellor